Download any of our Blog Marketing Resources FREE
Holes in Your Website Letting Qualified Leads Fall Through the Cracks?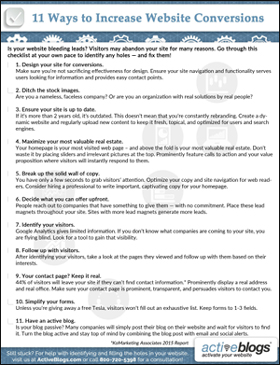 Ready to improve your website and stop bleeding leads? Download the "11 Ways to Increase Website Conversions" checklist to help you identify any holes — and fix them!
Improve the look and feel of your website
Keep visitors on your site longer
Improve your sales cycle
Need Some New Blog Article Topic Ideas Starters?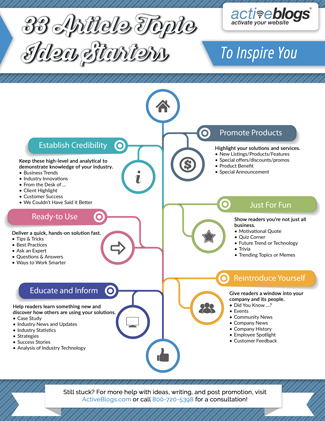 If you're in charge of constantly creating content for your site, you might run into times when it seems like the idea well has run dry.
Download our poster, 33 Article Topic Idea Starters, and refill your topic pool today!
See what topics you may be missing out on.
Educate and inform your readers.
Become a thought leader in your industry.
Are You Falling for These SEO Myths?
There are a lot of great practices that can boost your SEO … and several that are just a waste of time and resources. Download this free resource which debunks 17 common SEO myths including:
I must submit my site to Google
Keywords need to be an exact match
SEO is all about ranking
Make your website work harder for you
Download this free resource to learn five ways to make your website drive your business. Learn the essential online marketing ingredients you need to target the correct audience, professionally present your business, and encourage your visitors to take the next step.
Create sales and drive more traffic on your website
Stay up-to-date and informed with the seven website conversion maneuvers you need to know. Learn how to drive more Web traffic, fine-tune your search engine optimization, improve your marketing automation, and more when you download this resource.
Access Resource
All out of content ideas? Don't worry — we've got your back
Create the engaging content your visitors really want with these popular article topic ideas. Distribute posts that cover popular topics in your industry including
Innovations
Customer success stories
Fun facts
Ask an expert
Business trends
Virtual coffee break
Access Resource
How can an editorial calendar improve your blog content marketing?
Employ higher-level thinking and achieve better quality content through an editorial calendar. Download this free content editorial calendar template, which you can customize with:
Your own company logo
A timeline that works for your needs
Your own categories, CTAs, offers, and more!
Determine the ROI of your blog
Are you spending more or less time than what's allocated to produce your monthly blogs?
Download this production chart example to determine your monthly blog-production tasks, how much time to spend on each task, and how that compares to the time originally allocated.
Show existing customers you care, throughout the year
We often take existing clients for granted, even though they are the reason for our business's success! Show them you care by communicating with them regularly throughout the year. Download this client communication guide for ideas on how to keep your existing clients engaged through daily social media interaction, a thank you note on the client's anniversary with your business, and monthly updates on upcoming industry events.
Are your blog and email designs up to par?
Use this helpful checklist to ensure your blog content pages and email communications are designed to appeal to readers and maximize user experience.
Included in these helpful tips are
CAN-SPAM compliance requirements
Ideal design/template sizes
How to use the 80/20 rule
Access Resource
Define your personas to attract the right buyers
Documenting your buyer personas will help you better understand your audience and develop content that meets their needs. Use this helpful worksheet to get on your way to creating helpful, engaging content in no time! Learn to
define your persona's title and duties;
identify your persona's challenges; and
ascertain your persona's age, income, and education level.