 How to Fill Your Funnel with B2B Leads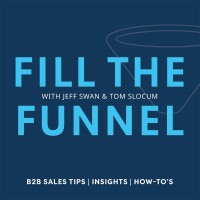 Subscribe and listen on:

Apple Podcasts 

Spotify

iHeart Radio

Google

Podchaser

Podcast Addict

Deezer

JioSaavn
We're there to help. We're there to serve. And the people that show up with us, they're also doing the same thing. Like, we're not trying to get anything out of this except in all honesty, sharpen our tool shed [and] get better at what we do.
Episode Summary
Tom Slocum and Jeff Swan — of "Fill the Funnel" podcast fame — join Connor to discuss challenges sales professionals face when learning their trade, necessities for successful selling, and the importance of a peer community for collaboration and camaraderie. Hear B2B Mentors' first "threesome" talk about community sourcing for sales solutions, gamification for exceeding goals, and getting creative with marketing channels.
Key Takeaways
One big challenge in sales today is an absence of mutual understanding between the C-suite and the sales team. Leadership may have outdated ideas about what strategies work best, and sales teams may have trouble finding support for newer approaches.
Three things you MUST have for a successful outbound engine are: strong messaging, a structured approach (e.g., channels, tools, sequence), and realistic benchmarks.
A peer community, such as Tom and Jeff's RevLeague, is an excellent resource for information, ideas, mentoring, problem-solving, collaboration, and camaraderie with your fellow professionals. Sales reps share common experiences across industries, and a strong peer community provides the support you need to boost your sales success.
More Highlights
Don't miss Connor's guest appearance on Tom and Jeff's "Fill the Funnel" podcast.
Hope you enjoyed this episode of B2B Mentors! Make sure to subscribe on your favorite podcast platform. Leave us a 5-star review, so your friends and colleagues can find us too. B2B Mentors is brought to you by activeblogs.com. Head over to our Content Trifecta page to schedule a chat with Connor about custom marketing content solutions for your company and the Content Trifecta effect!
Watch the full interview below: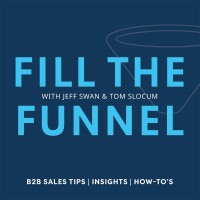 About the Authors:
Tom & Jeff are the co-hosts of the Fill the Funnel podcast, co-heads of the #RevLeague SDR community, and creators of the Alfred Method™ for converting 10% meetings booked.
Follow Fill the Funnel on LinkedIn here: linkedin.com/company/fill-the-funnel-podcast
About Connor Dube:
Connor Dube is Sales & Marketing Director at Active Blogs, an industry leader in B2B social selling and content strategy, Co-Founder of the Mile High Mentors Podcast, and Founder of B2B Mentors. Building his first business at seven, he's gone on to create multiple companies and supporting his clients approaches to adding multiple 8-figures to their sales pipeline with his innovative approach to Social Selling. As a current leader in sales and marketing strategy for complex industries, Connor's been featured in top podcasts, resources, and stages, including MSU Denver's current sales and marketing curriculum.
Connect with Connor on LinkedIn: linkedin.com/in/socialsellingexpert or email him at connor@activeblogs.com